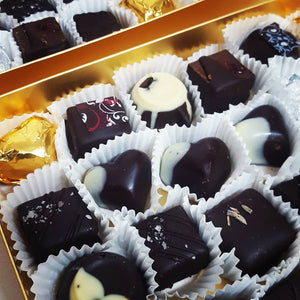 Niko's Fresh Select Assortments - Rich, creamy decadent truffles, salted caramels and more....
Sale price Price $18.00 Regular price
Let us bring together the best and freshest available From the Kitchen. Here you will get a variety of fresh cream truffles, giandujas, salted caramels and other specialties.
Our chocolates are made with the finest organic ingredients that are at their tantalizing best when enjoyed as close to the time they were made as possible. 
The chocolates are packed in a decorative gift box that includes a detailed description of the chocolates.